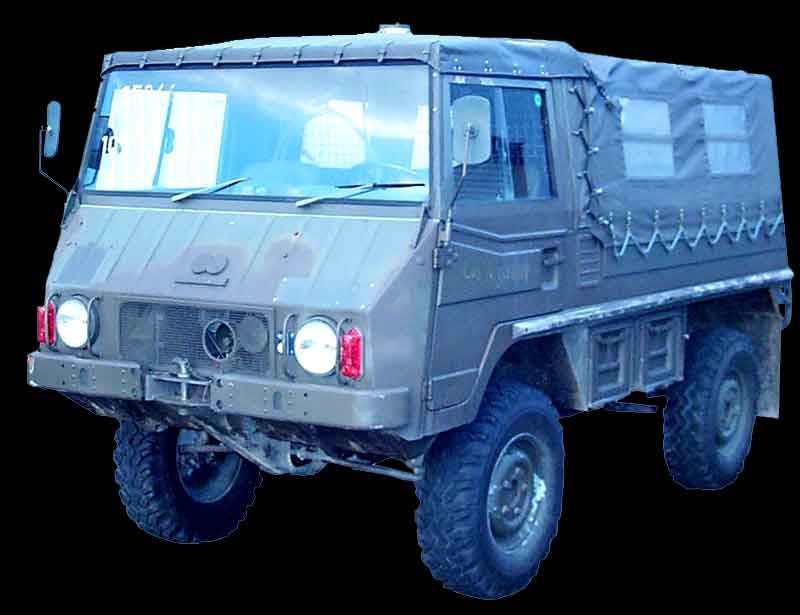 THIS IS A Steyr-Puch Pinzgauer 710m
THESE ARE GREAT TRUCKS!!!!!
THESE MARVELOUS TRUCKS ARE MADE BY STEYR-PUCH, IN GRAZ, AUSTRIA. THESE VEHICLES ARE DESIGNED TO GO ALMOST ANYWHERE WITH FANTASTIC ENGINEERING AND THE ULTIMATE IN DEPENDABILITY.
These are ANTIQUE VEHICLES, 25 years old or more. They're a lot of fun, but they require maintenance. Things can and do go wrong with them, but working on them is part of the fun! There are a lot of people into these machines. You can get parts and manuals and find friendly folks happy to help with good advice.
Interested in joining an Arizona Pinzgauer club? Go to: www.swpinzgauer.org
more pictures - Pinzgauer Specifications - Pinzgauer Links
Perrone Ford's introduction to the Pinzgauer
Contact for this site: info@unipinz.com
We are a "Safe Harbor" for Pinz and Mog travelers
We're located at 22402 N. 19th Avenue, Phoenix, Arizona 85027 - TEL: 800-851-8530
About 1/2 mile north of Deer Valley Road (I-17 Freeway exit - Deer Valley Road East)